Swimming pool Enclosures have become a big trend among pool owners. For safety and energy-saving reasons, these protective elements are suitable for all seasons, especially in winter.
Winter is the time of year when too much wind blows and unwanted material into your pool. With the use of a retractable pool roof, you can protect your pool from these happenings.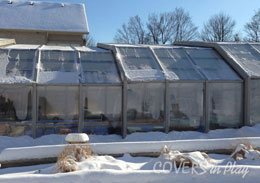 Dirt, leaves, twigs, dust, and other objects can collect and remain in an uncovered pool. This means additional maintenance costs. Many pool owners keep their pools covered whenever no swimmers are around.
This is a deterrent to avoid accidental drowning, especially if you have pets, children, and the elderly around you. This can happen in winter.
A retractable pool cover not only protects the pool from rain, UV rays, wind, and snow but also increases the indoor air temperature and helps you enjoy your pool in winter.
A retractable enclosure is a system to cover your pool. With this system, you can open or close the folding roof of your choice. The retractable box is made of long, thin PVC.
The pool is protected from rain, wind, and snow, you will spend less time cleaning the pool. With a retractable pool system, you can enjoy an extended swimming season throughout the year.